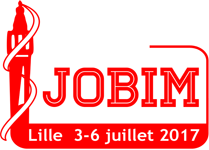 July 3-6th : Jobim in Lille
The Regovar team presented the project during the Journées Ouvertes en Biologie, Informatique et Mathématiques (JOBIM) which took place in Lille from the 3rd to the 7th of July 2017.
September 14-15th : Seminar of 'Génétique de l'Ouest'
The topic of the first day was "Déficience intellectuelle et autisme, apport des nouvelles technologies" and was coordinated by Brigitte Gilbert-Dussardier. The next day was dealing with open communications and GEM-HUGO and genetic epidemiology networks (coordinated by Emmanuelle Genin).
REGOVAR is a collaborative, free and open-source project dealing with the analysis of high throughput sequancing data for the gene panels, the exome and the genome (NIPT, discovery of SNV, CNV, SV...). It aims to engage and federate the various concerned communities (clinical geneticists, biologists and bioinformaticians), without institutional and geographical boundaries. It is exclusively based on free and open-source technologies and software, removing any contractual and budget constraints.
REGOVAR is a software program allowing the processing of genetic data, from the retrieval of files which are produced by sequencers, regardless of the technology, to the generation of illustrated reports and accounts with the quality control, the screening, the annotation, the filtering, the prioritisation and the visualisation of the variants.